Blind Signs TM
Blind Signs is an application of Blind Imaging that is primarily used for commercial purposes. Many companies have noticed our work and have begun to use this technology to their advantage. Blind Signs is a great alternative to conventional signs. Below are a few photo galleries displaying what Blind Imaging can do.

Chi-Town Harley Davidson - Chi-Town Harley was having some trouble finding more sign space due to restrictions by their village. CCI put together some great new "Blind Signs" to use as an alternative to normal every day signs.
---

Gerber Auto Collision and Glass - Gerber wanted new blinds to give their building a new look. After receiving the blinds they decided to remodel their whole front office around the new blinds.
---

Liberty Tax Service - Our designers worked with Liberty Tax Service representatives on a very specific corporate logo using specific colors and styles. Blind Imaging gave Liberty Tax some great new blinds to go along with the remodeling of their building.
---

Executive Tans - The corporate office has contracted CCI to provide window treatments for salons that want them. We have pictures of the Shorewood, IL salon with the previous corporate image and we have the new image which will be used in future salons. If you have an Executive Tan salon and are interested in the new image, contact us.
---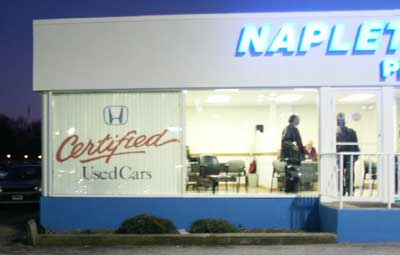 Ed Napleton Honda - Napleton Honda are using Blind Imaging to add extra emphasis on their certified used cars.
---

Popp Family Chiropractic - Pictures Coming Soon!!!
---
www.blindimaging.com